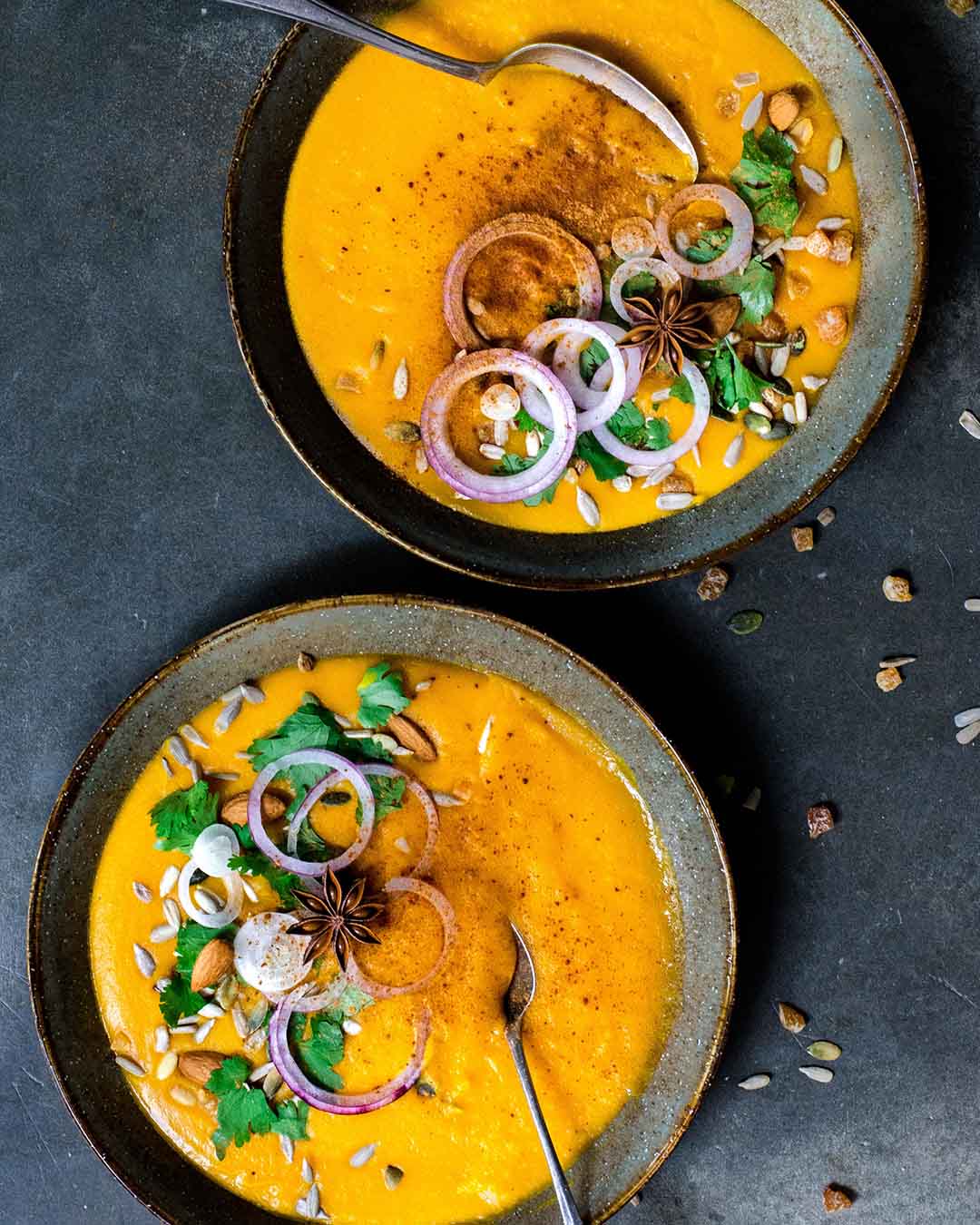 Recipes
Spicey
Autumn Soup
To make you feel warm in those dark, rainy days.
For a collaboration with Oranje Paprika (oranjepaprika.eu) developed this creamy, grounding soup.
This is kidsproof recipe when you leave out the toppings of course!
Giving your little ones all the good stuff they need…


3 orange bell pepper (roasted)
2 sweet potatoes (roasted)
1 small pumpkin (roasted)
approx. 500ml water
2 garlic
2 star anise
1 cinnamon stick
1 tbl spoon cane sugar
chilli flakes (you can skip it with kids)
1/2 lemon juice
salt & pepper
To garnish:
coriander
seeds & nuts
cinnamon
purple onion rings (or finely chopped)
Pre-heat the oven for 180 degrees, and pop all the vegetables, -cut into chunks- on a baking tray (on baking paper)
Bake them till they are tender. Most of the time 20-30min.
In the meantime sautee the garlic, the spices and the cane sugar a couple of minutes on some ghee (or the choice of your oil)
When the vegetables are ready in the oven, add them to the spices, pour the water on them, cook for 3 more minutes then blend them with a hand blender. (to save time, I prefer hand blenders to blenders, also saves you some cleaning up)
Bring it to taste with some salt & pepper and add the juice of half lemon
Ready to garnish!
Find me on instagram
studio_zilalila