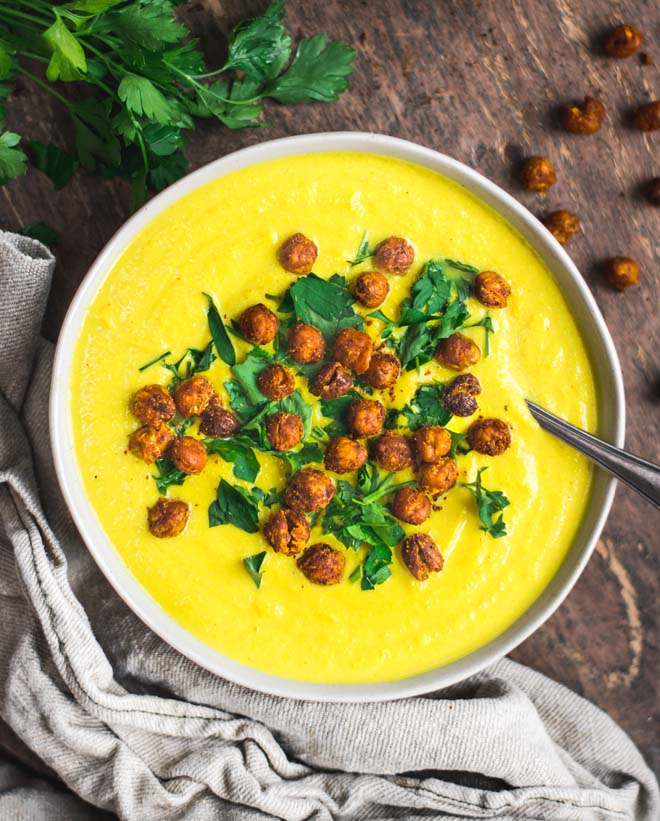 Recipes
Golden Goddess Soup
This Cauliflower soup ticks all the boxes! Delicious, creamy, nourishing, plantbased & kidsproof!


1 big cauliflower
2 garlic
turmeric
handful of cashew nuts
olive oil
salt
approx 800 ml vegetable stock
squeeze of lemon juice
To garnish:
coriander or parsley
chick peas (2 cans)
paprika powder
ground cummin
1. Pre-heat the oven for 180 degrees.
2. Sprinkle chickpeas with a mix of cumin, paprika powder, salt, and/or any other spice you like. Drizzle with some extra olive oil, mix well.
3. Roast them for about 30 minutes or until crispy on a tray with baking paper.
4. In the meantime sauté the garlic on the oil, add the turmeric then the cauliflower, cashew nuts and fill it with 800ml vegetable stock. Cook till tender.
5. Blend the soup with a hand bleneder till you get to this smooth, creamy texture.
6. Bring it to taste with some salt & pepper and add the juice of half lemon
Ready to garnish with the roasted chick peas and coriander/parsley
Find me on instagram
studio_zilalila