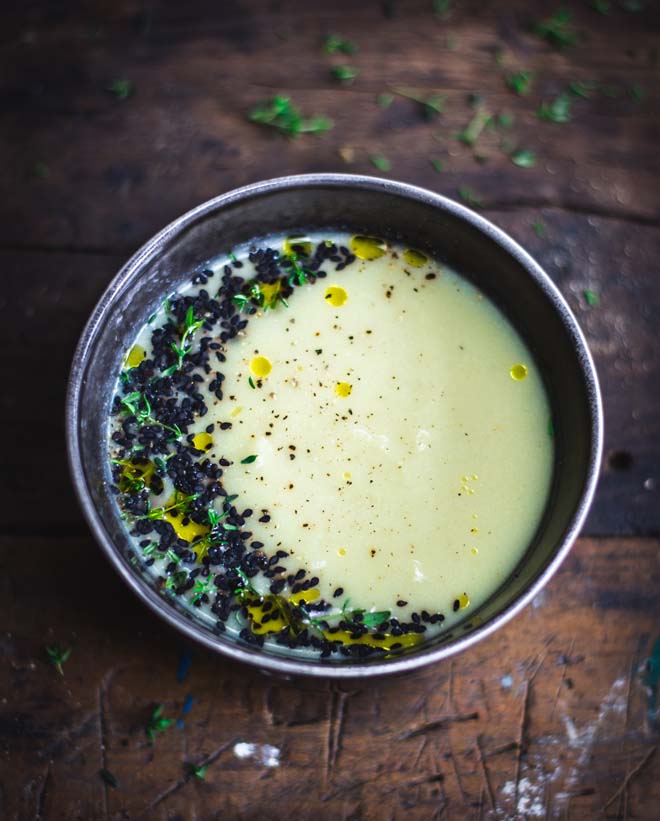 I'm reading this book of Yasmin Boland, Moonology at the moment which was the main inspiration (definitely for the styling) to this silky dreamy Cauliflower soup.
Also according to ayurveda during New Moon phase the best is to eat light & simple, easy to digest and nourishing foods that are warm and more liquid based. (check, check, double check)
Soups, stews, kitchari, or one-pot meals are the best options.
So if you are interested of making this easy creamy soup, here is what you need.


1 cauliflower

2-3 cloves garlic

1 onion or leek (diced

)

olive oil

salt & pepper

1tsp ground coriander seeds

pinch of cardamom

1 tsp ground fennel seeds

750ml vegetable stock

fresh thyme

400 ml coconut milk
Topping:
1. Pre-heat the oven to 180 degrees.
2. Roast the cauliflower 30 min with a drizzle of olive oil and salt.

3. Sauté the garlic and onion with the spices on some ghee or olive oil.
4. Add the veggie stock and the cauliflower, + coconut milk, simmer for 15-20 more minutes.
5. Blend it with a hand mixer and you are ready to serve!
Find me on instagram
studio_zilalila