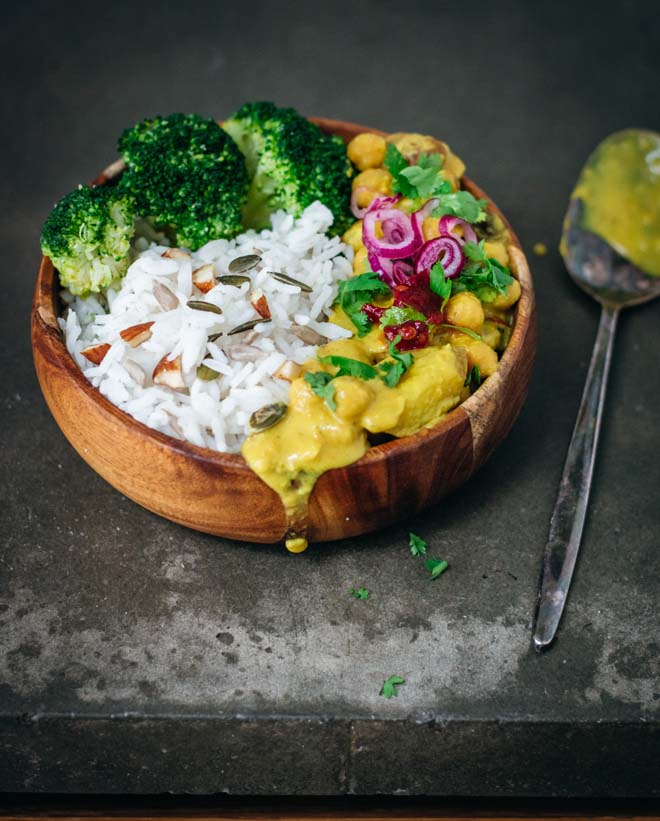 Recipes
Easy (Chick)Peasy Curry
This is soooo my kind of dish. I could eat it every day….
To inspire you to cook meatfree in the week of @weekzondervlees here is the recipe for the curry we ate yesterday.
It even got the kidsproof label so it's definetly worth a try. I served the topping seperately, so that everyone could choose…(and leave out some of it if neccesseary)


3 or 4 potato
chickpeas (800gr)
2 garlic
1 onion
2 cm ginger (grated)
cardamom
turmeric
coconut cream or milk (I used here cream)
handful raisins(don't skip this, it makes such a difference)
Toppings:
corander
onion (thin slices marinated in salt & vinegar)
sambal (if you like spicy)
1. Sautee the garlic, onion and spices on some olive oil or ghee.
2. Add the diced potato and chickpeas and raisins.
3. Fry them for a couple minutes, the add little bit of water, cook/steam till everything is tender.
4. Add the coconut cream, cook for a few more minutes.
You can serve it with rice, broccoli and some mixed nuts&seeds for the crunch!
Find me on instagram
studio_zilalila